Hey, it's Uni. I'm here to share with you guys a fun game!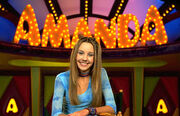 Okay, so, I'll pick a topic each week and you'll have to change your icon to relate to that.
This Week's Icon:
Favorite Blonde of Your Childhood/Toddlerhood
It could be Hilary Duff, Hannah Montana, Ashley Tisdale, whoever. Try to stick with when you were pretty young, so we can all be like, "Yeah, I remember them!"
BE ORIGINAL!
Car has Gwen Stefani and I have Aly & Aj. :P
Ad blocker interference detected!
Wikia is a free-to-use site that makes money from advertising. We have a modified experience for viewers using ad blockers

Wikia is not accessible if you've made further modifications. Remove the custom ad blocker rule(s) and the page will load as expected.